How to reach vaishno devi temple.
Maa Vaishno Devi Temple: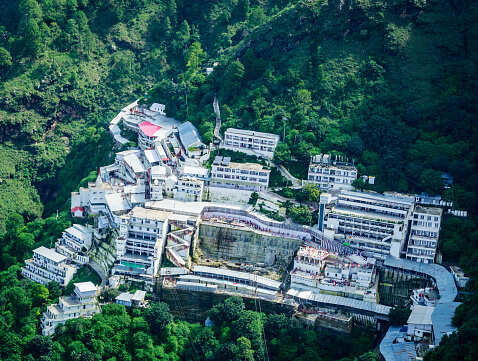 Maa Vaishno Devi mandir is one of the holiest places to worship for Hindus. Vaishno Devi also called as Mata Rani, Vaishnvai which is related Hindu goddess Mata AdiShakti and mata Prashakti. "Maa" word means mother in India. Vaishno Devi Temple is located in katra at Trikuta mountains of union territory of Jammu and Kashmir in India.It is 14km trek from Katra to Maa vaishno devi Bhawan for which people among whole world come here with enthusiasm to reach the temple and worship maa vaishno devi mandir. It is also believed that visitor can only visit temple if visitor receives "Call of Mata" and show blessings and love to devotees. Whole yatra is managed by Mata vaishno devi Shine board.
According to Hindu religion, in the Treta Yuga, when the earth was overburdened by the wicked and tyrannical rule of the demons, the Goddess Vaishnavi was created when Uma (Mahagauri), Rema (MahaLakshmi), and Vaani (MahaSaraswati) decided to combine their energies to rid the earth of impending doom. After destroying the demons that were burdening Mother Earth, Goddess Vaishnavi was requested to reside on Earth, so that she may forever keep all evil at bay. She chose to incarnate as a human, named Vaishnavi. To know more history about Mata Vaishno Devi Temple you can visit : https://en.wikipedia.org/wiki/Vaishno_Devi
Here's the details below if you are planning to visit Maa Vaishno Devi Mandir.
How to reach:
By Bus: Buses are easily available for Katra from Delhi Bus stand and Jammu Bus stand. Private and government buses run all day-night to katra from Delhi and Jammu Bus stand. Buses reach katra early in the morning so that pilgrims so that they can plan there yatra from katra to bhawan easily.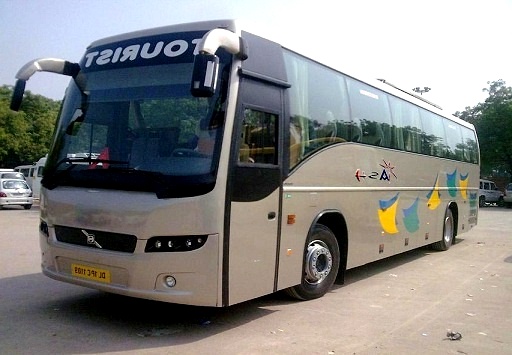 By Train: One can reach to katra by train from various part of the country very easily. During peak time and summer season, Indian railway also announce special trains for Katra (Maa Vaishno Devi) from various parts of cities. Last year Government of Year announced for Super-fast Train 18 (Vande Bharat Express) from Delhi to Katra and vice-versa. You can book train tickets from IRCTC website.
By Air: Jammu Airport is easily connected from all over the major airport cities in the country. Flights to katra are easily available from Delhi, Chandigarh, Pune, Raipur, Indore, Srinagar, Amritsar, Leh, Kolkata and many more cities. Different flight operators like SpiceJet, Vistara, AirIndia and Indigo operates regularly. Pilgrims can take taxi or Bus from Jammu Airport to katra easily.
By Taxi: Private Taxi operator operates taxi service 24*7 from katra to Delhi, Jammu, Chandigarh, Amritsar vice-versa. You can book taxi easily from Katra Taxi Union.
Vaishno Devi Helicopter Booking
Online Tickets and Procedure to book Mata Vaishno Devi Helicopter tickets:
Helicopter service starts from Katra to Sanjhichatt and vice versa. Katra helipad is located at 2 km approx from Katra Bus stand at Udhampur road and Sanjhichatt Helipad is located 2.5 km approx away from Mata Vaishno devi mandir bhawan.
Fares:
(Katra-Sanjhichatt) = 1045 rs/person for One-way.
Double side fare = 2090 rs/person.
Sanjhichatt Helipad.

Process to Book Helicopter Online tickets for Vaishno Devi Mandir.
After Accepting terms and conditions. Create a New User or if you have already created just enter Id and password and login it.

After Creating New User you have to fill personal information regarding address, your details and passenger details with no error.

Select flight dates and time availability and book accordingly to your planned journey.
Make the Payment through Net Banking, Credit cards, Debit cards.
Take the print out of reservation ticket of helicopter to show at the time of journey.
How to book offline/Counter ticket for helicopter service.
You can avail Helicopter tickets offline at Current Heli-Ticket Counter.
Please carry Id proof of all passengers(for ex. Aadhaar Card,Driving License).
Proofs/Slip of staying in Hotel/Dharamshala in Journey.
Travelling proofs are required such as Air/Bus/Taxi/Train.

The tax rates as applicable shall charged on the date of Travel at the respective location Katra/Sanjichatt.